!Converted with LaTeX2HTML 95.1 (Fri Jan 20 1995) by Nikos Drakos (nikos@cbl.leeds.ac.uk), CBLU, University of Leeds >
---




Next:
Atmospheric Phase Correction:
Up:
Interferometer
Previous:
Control System and
---
Antenna 5 delivery is foreseen for April-May. With one more antenna, the configurations will change again. The new list is given in Table 5.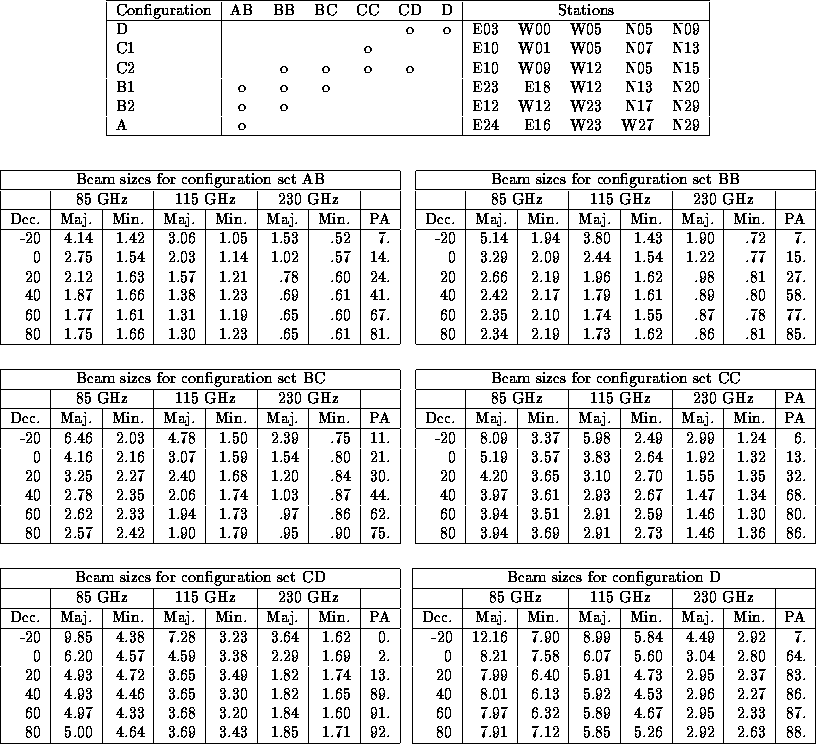 Table: Plateau de Bure configurations with 5 antennas

D -- the compact configuration D yields a beam size twice that of the CC configuration set. The goal of this is to enable studies of CO(2--1) and CO(1--0) at virtually the same (moderate) resolution.

CD -- the next most compact configuration set which combines C2 and D. One 24 meter baseline is duplicated but the beam is generally quite circular. The pair C1 + D could also be used and yields a marginally lower resolution and less circular beam but has slightly lower sidelobes.

CC -- a relatively compact configuration set using C1 and C2, which gives a resolution similar to that of the current 4-antenna CD configuration set,

BC -- a combination of B1 and C2 which gives a resolution almost identical to that of the current 4-antenna BC configuration set, with 4 baselines less. It is to be used for relatively strong sources.

BB -- the B1, B2, and C2 configurations are combined for a total of 30 baselines (as opposed to the current 4-antenna BC with 24 baselines).

AB -- the most extended configuration set, made up of A1, B1 and B2, gives a resolution of at 115 GHz (0.6 at 230 GHz). Several short baselines (32m, 40m, 56m, 64m) have been included to facilitate calibration and give some sensitivity to extended structure.
Note that the C2 configuration plays a central role, since it is included in both very compact and large configuration sets. B1 plays a similar role for higher resolutions.
Because of antenna maintenance, the 4-antenna configurations (see the Call for Proposals) will still be used during the summer.
Expected beam sizes are given in Table 5.
Stéphane GUILLOTEAU
---




Next:
Atmospheric Phase Correction:
Up:
Interferometer
Previous:
Control System and
---
---
lucas@iram.fr