!Converted with LaTeX2HTML 95.1 (Fri Jan 20 1995) by Nikos Drakos (nikos@cbl.leeds.ac.uk), CBLU, University of Leeds >
---




Next:
Call for Observing
Up:
Computers
Previous:
Computers
---
To transfer data between IRAM locations in France and in Spain or to any other places without going through a network, 9-track tapes may be used; but one would prefer to travel with smaller cartridges such as Exabyte or DAT tapes.
At Pico Veleta and Granada, DAT drives are available on VAX/VMS systems. Save sets or archives may be performed with the backup and VMSTAR utilities.
At Bure and Grenoble, both DAT and Exabyte drives are available:

At Bure the DAT is connected to the UNIX machine iraux3 (/dev/rmt/0mn,0m, 3mn, 3m) and the Exabyte is available on the VAX/VMS node bure02 (BUR02$MUB0:).
At Grenoble on VMS, an Exabyte (IRAM04$MUA0) and a DAT (IRAM04$MUA1) are connected to iram04 (VAX/VMS), while on UNIX there are 2 DAT drives, one on iraux1 (SCSI 3) and one on iraux4 (SCSI 2); there is one Exabyte on iraux2 (SCSI 1).
See table 1 for the capacity of those tapes.
The speed performances of tar, VMSTAR and BACKUP have been evaluated on HP 9000/735 and microVAX4000/300, and are given in table 1.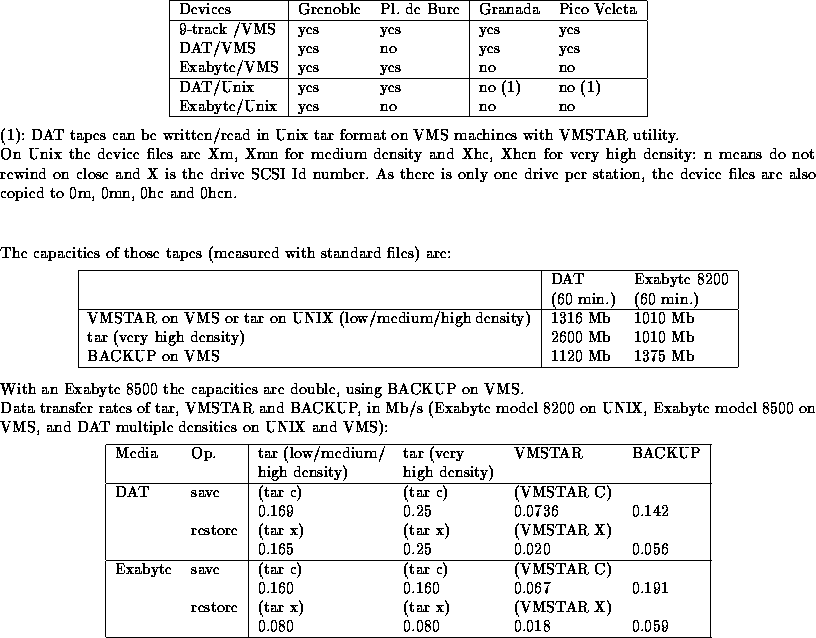 Table: Cartridge recording devices available at IRAM:



Table: Preferred ways of transporting tape data between IRAM sites:

As UNIX work stations are unable to read tapes produced with the BACKUP utility on a VMS system, to transfer data from VMS systems which should be analysed on UNIX, it is better to archive directly the data files with VMSTAR without producing intermediate BACKUP save sets.
In summary: Table 2 indicates the ways to transfer data from our different sites with tapes or cartridges.
Please note that, although access to Internet is, in principle, available from all sites it is important that observers make sure they bring all computer files on media available at the site. Do not depend on access to Internet!
Walter BRUNSWIG and Alain PERRIGOUARD
---




Next:
Call for Observing
Up:
Computers
Previous:
Computers
---
---
Robert Lucas
Thu Mar 9 14:24:13 MET 1995