!Converted with LaTeX2HTML 95.1 (Fri Jan 20 1995) by Nikos Drakos (nikos@cbl.leeds.ac.uk), CBLU, University of Leeds >
---




Next:
Computers
Up:
Interferometer
Previous:
High frequency resolution
---
We have revised the list of configurations to take into account the advent of the 1.3 mm receivers and of the new stations. The standard set includes four basic arrays built upon a primary set of eight 4-antenna configurations (Table 1):

Table: Available configurations

The arrays, named AB, BC, CD and DD are reasonably suited for all declinations (see Table 2).
AB, made of A1, A2, B2, C1
This is the largest configuration, which provides an angular resolution at 115 GHz ( at 230 GHz), but offers little sensitivity to extended structures.
BC, made of B1, B2, C1, C2
This is the standard high resolution mode.
CD, made of C1, C2, D1
This is the standard low resolution mode. Beware that ``low'' resolution is already at 230 GHz, however.
DD, made of D1 and D2
This configuration has been created to provide ``very'' low resolution at 230 GHz.
Mosaicing is usually done with CD or DD, but the combination BC+D1 can also make sense for high resolution mosaics. Lower spatial resolution projects will usually not be considered, given the limited field of view of the IRAM interferometer. The antenna beam size is
at 100 GHz and the shortest possible spacing is 24 m, to avoid collisions between two antennas. Even taking into account projection effects that shorten the effective baseline, sources larger than about

are heavily resolved at 110 GHz.

Non imaging projects, such as detection experiments, size measurements, snapshots, etc., should use a subset of the standard configurations. This subset can either be specified by the observer, or left undefined until final scheduling if any configuration is appropriate (a detection experiment for example).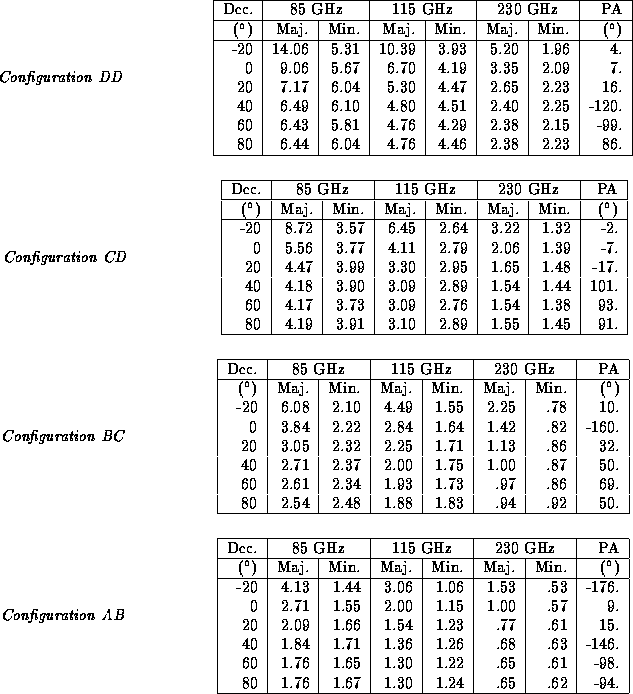 Table: Beam sizes (in arc seconds)

Stéphane GUILLOTEAU
---




Next:
Computers
Up:
Interferometer
Previous:
High frequency resolution
---
---
Robert Lucas
Mon Sep 18 09:50:01 METDST 1995