!Converted with LaTeX2HTML 95.1 (Fri Jan 20 1995) by Nikos Drakos (nikos@cbl.leeds.ac.uk), CBLU, University of Leeds >
---




Next:
Receivers and Antennas
Up:
Interferometer
Previous:
Program Committee Recommendations
---
Figure 3 shows the water vapor content measured on Plateau de Bure between Nov 5 and Nov 7 (the various curves correspond to the different antennas). Very low water vapor content (less than 0.7 mm) persisted when the outside temperature was about -12 degrees. With the upcoming of warmer air (about 0 degrees), the water vapor content increased to about 3 mm.
Water vapor content well below 2mm is expected to occur frequently in winter, since the mean outside temperature is -10 degrees.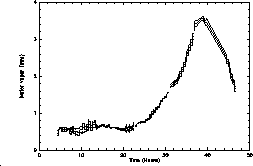 Figure 3: Water vapor content measured on Plateau de Bure between Nov 5 and Nov 7 (see text)

---
lucas@iram.fr